PolyCello announces latest innovation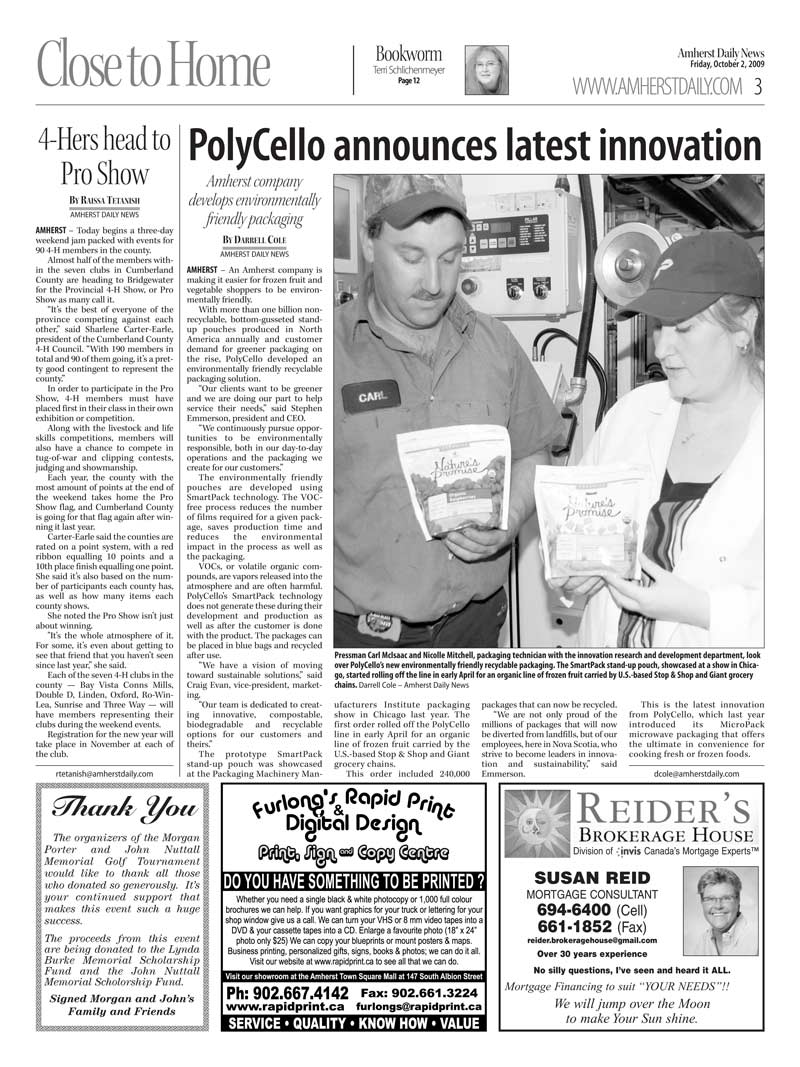 Text:
An Amherst company is making it easier for frozen fruit and vegetable shoppers to be environmentally friendly.
With more than one billion non-recyclable, bottom-gusseted stand-up pouches produced in North America annually and customer demand for greener packaging on the rise, PolyCello developed an environmentally friendly recyclable packaging solution.
"Our clients want to be greener and we are doing our part to help service their needs," said Stephen Emmerson, president and CEO.
"We continuously pursue opportunities to be environmentally responsible, both in our day-to-day operations and the packaging we create for our customers."
The environmentally friendly pouches are developed using SmartPack technology. The VOC-free process reduces the number of films required for a given package, saves production time and reduces the environmental impact in the process as well as the packaging.
VOCs, or volatile organic compounds, are vapors released into the atmosphere and are often harmful. PolyCello's SmartPack technology does not generate these during their development and production as well as after the customer is done with the product. The packages can be placed in blue bags and recycled after use.
"We have a vision of moving toward sustainable solutions," said Craig Evans, vice-president, marketing.
"Our team is dedicated to creating innovative, compostable, biodegradable, and recyclable options for our customers and theirs."
The prototype SmartPack stand-up pouch was showcased at the Packaging Machinery Manufacturers Institute packaging show in Chicago this year. The first order rolled off the PolyCello line in early April for an organic line of frozen fruit carried by the U.S.-based Stop & Shop and Giant grocery chains.
This order included 240,000 packages that can now be recycled.
"We are not only proud of the millions of packages that will now be diverted by landfills, but of our employees, here in Nova Scotia, who strive to become leaders in innovation and sustainability," said Emmerson.
This is the latest innovation from PolyCello, which last year introduced its MicroPack microwave packaging that offers the ultimate in convenience for cooking fresh or frozen foods.