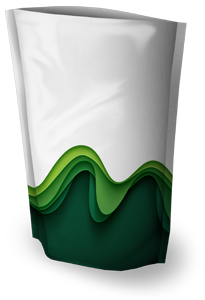 Sugarcane
Renewably sourced

Fully recyclable

Reduced environmental impact

Doesn't contaminate existing streams

No impact on quality or graphics
Inquire About this Product
Sustainable Packaging Made From Sugarcane
Film Produced from Renewable Sources
Conventional plastics are part of our everyday lives – from the frozen peas we bought in protective packaging, to pet treats in shelf-stable, high barrier bags. However, your consumers are increasingly concerned with the impact they are making on the environment. Consumers today want to know not only what is in their food, but what is in their packaging. And, with corporate-led requirements for sustainable products, manufacturers are given the challenge to develop even more innovative solutions to reduce their environmental impact.
Our partners at Braskem ensure that their suppliers meet the principles of sustainable development present in the "responsible ethanol sourcing" which covers aspects such as respect for biodiversity and good environmental practices.
What is Sugarcane?
A renewable source alternative to traditional PE.
Where polyethylene is produced from fossil raw materials such as natural gas and oils, Sugarcane, also known as I'm Green™ Polyethylene, is a plastic made from a renewable raw material: ethanol from Brazilian sugarcane.
Will I Compromise Quality?
No—I'm green™ polyethylene exhibits the same characteristics as traditional polyethylene in regard to application flexibility, performance, and especially in terms of recycling.
Why Sugarcane?
I'm green™ Polyethylene captures and fixes CO2 from the atmosphere during its production, helping to reduce greenhouse gases emission. As sugarcane polymers are a renewable resource and don't depend on fossil fuels, there is a substantial environmental benefit.
Do your customers know when they're making a positive impact on the environment? By using a minimum of 25% Sugarcane resin (vs. manufacturing new resin), your packaging can proudly carry the I'm Green logo, which helps consumers identify truly sustainable products — increasing the value of your brand.
Find out the true impact your sustainable packaging choice will have on the environment with our interactive comparison tool. Calculate your results now.